D-mudelite loomine ja küttearvutuste teostamine.
Tarkvara hoonete arvutipõhiseks 3D-mudeldamiseks ning üksikute ruumide küttevajaduse arvutamiseks


Rakendus arvutab (sõltuvalt versioonist):
seinte, põrandate, katuste ja lamekatuste soojuskandvustegurid;

valitud ruumide soojakao;

kogu hoone soojakao;

kortermaja küttetasakaalu kütteperioodil;

energiasertifikaadi;

aastase energiatarbe;

sobivad radiaatorid (ligi 55 000 ühikut).
Program features
Version of the program
3.0
4.0, 4.01
4.7 Pro
4.8 Pro
5.0 basic
5.0 Pro
5.0 3D
5.1 Pro
5.1 3D
6.0 basic
6.0 Pro
6.1, 6.5 basic
6.1 Pro
6.5 Pro
6.6 Pro
Determines energy performance certificates of the building accorging to methodology in Polish Journal of Laws from 18 March 2015, item 376 – calculation method
Module supporting prefilling of the form of Central register of energy performance of the building
Determination of the energy performance certificates according to the methodology of OJ 2014 item. 888 - calculation method
Technical conditions 2014 2017 2021 - in terms of insulation baffles
Technical conditions 2014 2017 2021- with respect to the EP index
Graphic creation of a building model (show hardware requirements)
Connects and scales the drawing
Heat transfer coefficient U for windows and door according to the standard PN-EN ISO 10077-1
Shading coefficient Fsh according to the standard PN-EN ISO 13790
Linear thermal bridges
Surfaces thermal bridges (linear and point)in multilayer partitions
The internal unit heat capacity of the building is calculated based on a building structure
Defines hygenic requirements for your own types of rooms
Creates a set of building materials in the building construction
Creates a set of building partitions in the building construction
Creates a raport with a set of materials (building materials, building partitions, carpentry, radiators, manufacturers)
Heat load PN-EN 12831
Selects radiators
Interacting with Audytor C.H. program family
The Energy Performance Certificate according to the methodology form 2008.
The energy performance
Energy consumption - heating PN-EN ISO 13790
Energy consumption - cooling PN-EN ISO 13790
Energy consumption - heating PN-B 02025 (an obsolete standard)
Computing variables
Heat transfer coefficient PN-EN ISO 6946
Heat transfer through the ground PN-EN ISO 13370
Inhomogeneous partitions
The system default data inheritance
Checks the accuracy of data input
Imports the building model from Revit Architecture
Import of three dimensional building model
Moisture analysis of the building partitions – calculator of temperature distribution
Moisture analysis of the building partitions calculator of temperature distribution and vapor pressure
Moisture analysis of the building partitions - PN-EN ISO 13788
Heat load PN-B-03406 (an obsolete standard)
Projekti andmete mugav arvutisse sisestamine

Kasutajasõbralik 3D-mudelite redaktor aitab andmeid kiiresti ja tõhusalt sisestada.
Hoonete korruste lihtne mudeldamine
Tänu hoone alusjooniste sisestamise võimalusele on kasutajatel võimalik joonestada seinu, aknaid, uksi ja põrandaid vajaduseta nende komponentide mõõtmeid käsitsi muuta. Hoonete alusjooniseid on võimalik importida DWG-failidena, bitmap-kujutistena või otse skaneerimisseadmetest.
Mudeli valideerimine
Kui hoone kolmemõõtmelised mudelid on loodud, siis saavad projekteerijad kontrollida sisestatud hooneosade õigsust.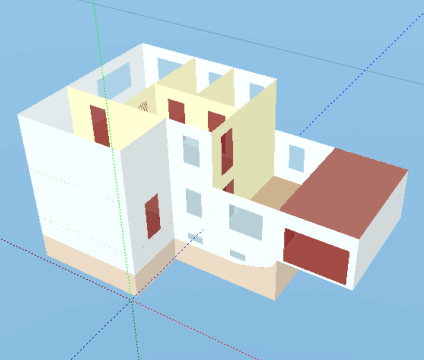 Ajasääst
Vaikeandmete ja üldandmete rakendamise funktsioonid võimaldavad kasutajatel hooneosade sisestamisel aega ja vaeva säästa.
Parameetrite kiire muutmine
Muutujate rakendamine võimaldab arvutada mitmeid versioone.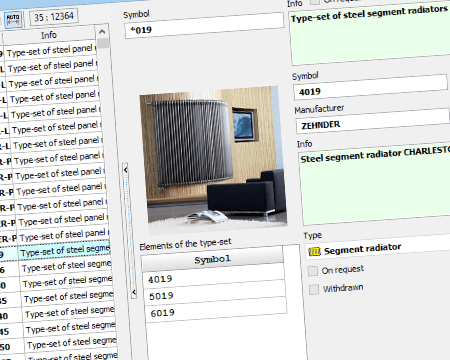 Radiaatorite eelvalik

Projekteerijad saavad juba hoonete joonestamisel hinnata küttesüsteemidesse vajalike radiaatorite mõõtmeid.
Abi tehniliste dokumentide koostamisel

Projekteerijad saavad luua projektide tehnilisi dokumente mahukate materjali, hooneosade ja valitud radiaatorite ülevaadete põhjal.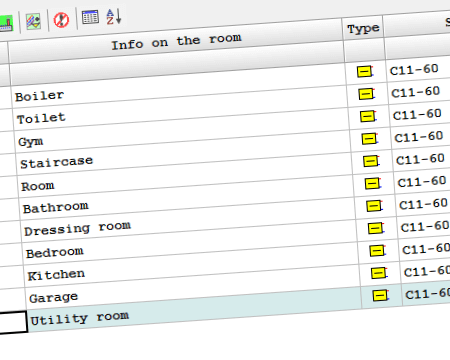 Technical requirements
The program runs under MS Windows (XP, Vista, 7, 8, 8.1) 32bit and 64 bit. The minimum hardware:
1200 MHz processor,
1 GB RAM,
A color monitor with a minimum screen resolution of 1024x768,
200 MB free space on the hard drive,
Compatible graphics card with OpenGL 2.0 and higher,
All new graphics cards on the market should meet the minimum hardware requirements;Graphics card integrated with the motherboard: minimum GMA 500;